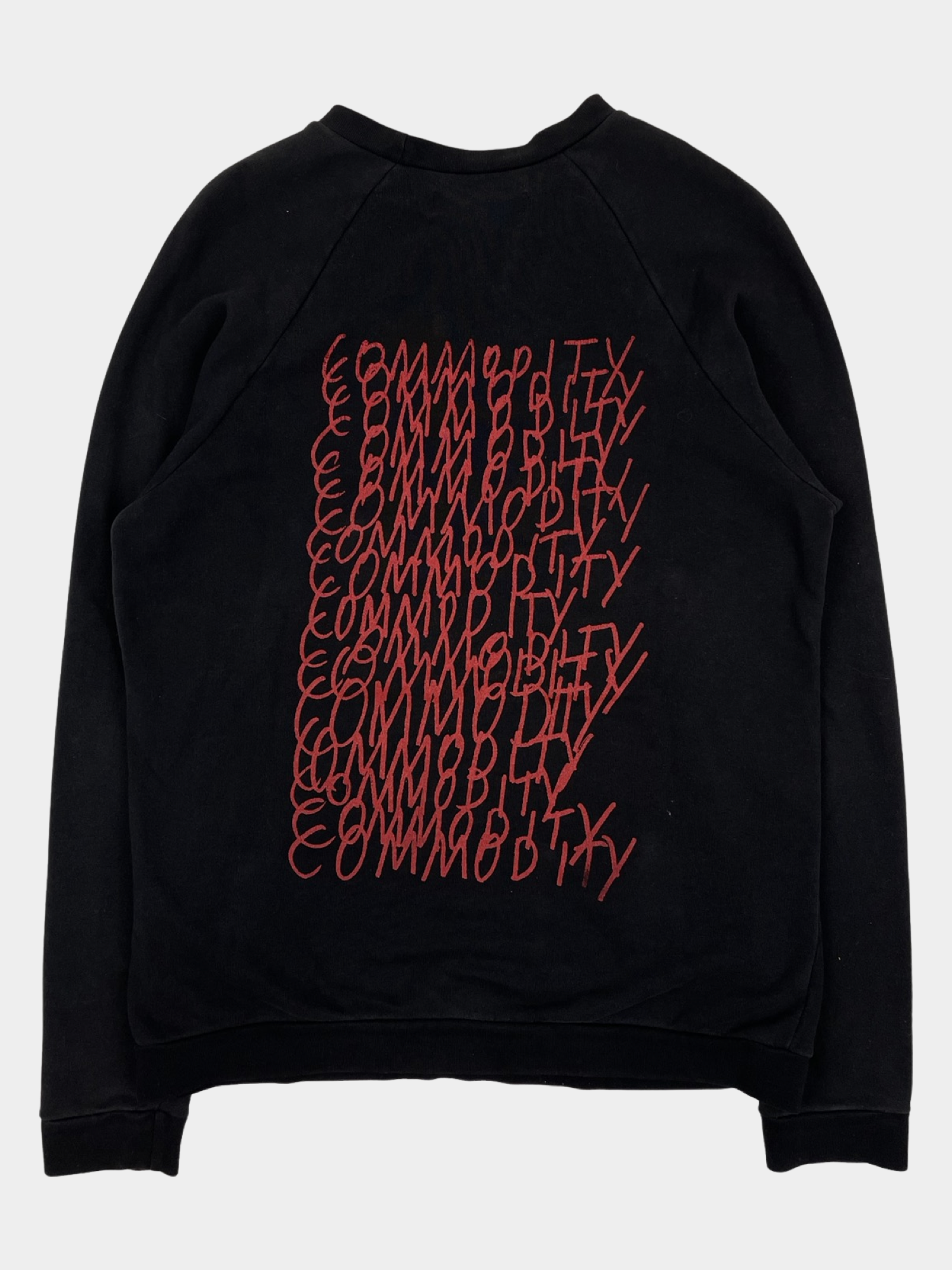 ---
RAF SIMONS
Commodity Raglan Sweatshirt
SS2003 "Consumed"
DESCRIPTION

The legendary season's title, as labeled on the front of the sweater, serves as Raf's perspective on consumer culture. 'Commodity' is repeatedly printed on the back, alluding to compulsive consumerist mentality. Classic raglan silhouette with slim fitting sleeves and crew neckline.


CONDITION

Good condition. Please see photos for full evaluation.


SIZE / MEASUREMENTS

Size 46, fits medium
Pit to Pit: 20 Inches
Length: 28 Inches
Sleeve Length: 26 Inches



COVERAGE
"Consumed" served as one of Simons' most coveted and radical collections, reflecting his take on global consumerism. The brand wanted to portray consumer culture as two shifting personalities; a dystopian future wrecked by globalisation, and an avenue for self expression in youths. Simons turned to 80s artist Ashley Bickerton who made collages out of brand logos for inspiration and proceeded to create garments with corporate logos and bold texts like "membership", as a way of expressing his own fascination with the attraction of corporate branding in consumer culture. Suit jackets, bombers, fisherman vests were all altered into utilitarian survivalist uniforms of a post-apocalyptic world, as seen by the exaggerated compartments, harnesses and fishnet material used throughout. Some of the most recognisable pieces from the collection include the parachute bomber jackets, the spray painted can accessories, as well as the Penelope Tree graphic hoodies. SS03 was a brilliant, sardonic narrative on how society devour commodities and the influence that branding had on consumers, especially youths.