In less than two decades, the internet has revolutionized how we interact. With the addition of social media, many individuals can cut through the noise, gravitating toward what calls their attention. Some individuals have used the proliferation of social media to find their niche, tap into it, and build on it.

NGC1961 has been at the forefront of online influence for the last two years. She has quickly made her mark and has worked with some of the most prominent players in the space, including Thierry Mugler, Moncler, and Balenciaga. NGC1961's unique taste and style have paved the way for her success.
Following a recent shoot for Archived, NGC1961 got together with the Archived team for an intimate interview. During her time with us, NGC1961 discussed her origins, aesthetic inspirations, distant galaxies, and the current state of fashion.

Archived: Hey, NGC1961! It's great to sit down with you; thanks for taking the time to be here with us.

NGC1961: Of course, thanks for having me!

Archived: Can you tell us a little about yourself, where you're from, how you started your social media journey, and what inspires your posts?

NGC1961: I'm originally from China, Guiyang, a small-town girl; I started my socials about 2 years ago when I moved to LA for art school. I simply enjoyed aesthetically pleasing visual stuff. At first, I just posted what excited me, like a good outfit of the day, a fun object, etc.

Archived: When did you realize that you would treat social media as a job?

NGC1961: I would say I still haven't treated social media as seriously as a job. It was until one point that the audience grew bigger, and I had mixed feelings because of that. I felt more obligated to create and post regularly. On the other hand, I'm intuitive and like to just go at my own pace.

Archived: So, where did you first start learning about aesthetics and style? Anything you can think of that inspired you in the beginning?

NGC1961: The memories are blurry, but the biggest inspiration I would say that influenced me into fashion was when I was in middle school. My first time watching fashion shows from the 90s was from designers like McQueen and Thierry Mugler.

Archived: Wow, going from watching their shows to being a part of their campaigns must be exhilarating! How has this and accumulating a large following over the last couple of years impacted your outlook on the space and your part in it?

NGC1961: It is truly so magical! My heart is always full of grateful emotions for where this journey has led me, but I hope my vision does not change.
Yuan Wears Mugler for SS2022 Campaign
Archived: So surreal. I love stories like this. I hope your journey continues to be fruitful. How has the change been from living in Guiyang to moving to LA and now NY? Have any of these environments shaped your style and vision?

NGC1961: Thank you! I feel the surreal synergy between the environment shift and my growth; each city has its own flow, and everywhere I've been has taught and shaped me so much, both vision and style-wise!

Archived: How would you describe your personal style? Do you have any favorite designers?

NGC1961: I feel like I have a very malleable style, and I don't like limiting myself. My comfort zone, for now, is definitely sleek and straightforward. Currently obsessing over Ann Demeulemeester, but I'm constantly changing. I have no idea what I'll end up like the next day.

Archived: I know you have other interests in design outside of fashion. You incorporate it into your posts frequently. Is there anything specific you're drawn to?

NGC1961: Yes! I'm a very amateur enthusiast of architecture. I've been an all-time Tadao Ando fan and just recently visited several of Louis Kahn's works in New Haven and fell in love.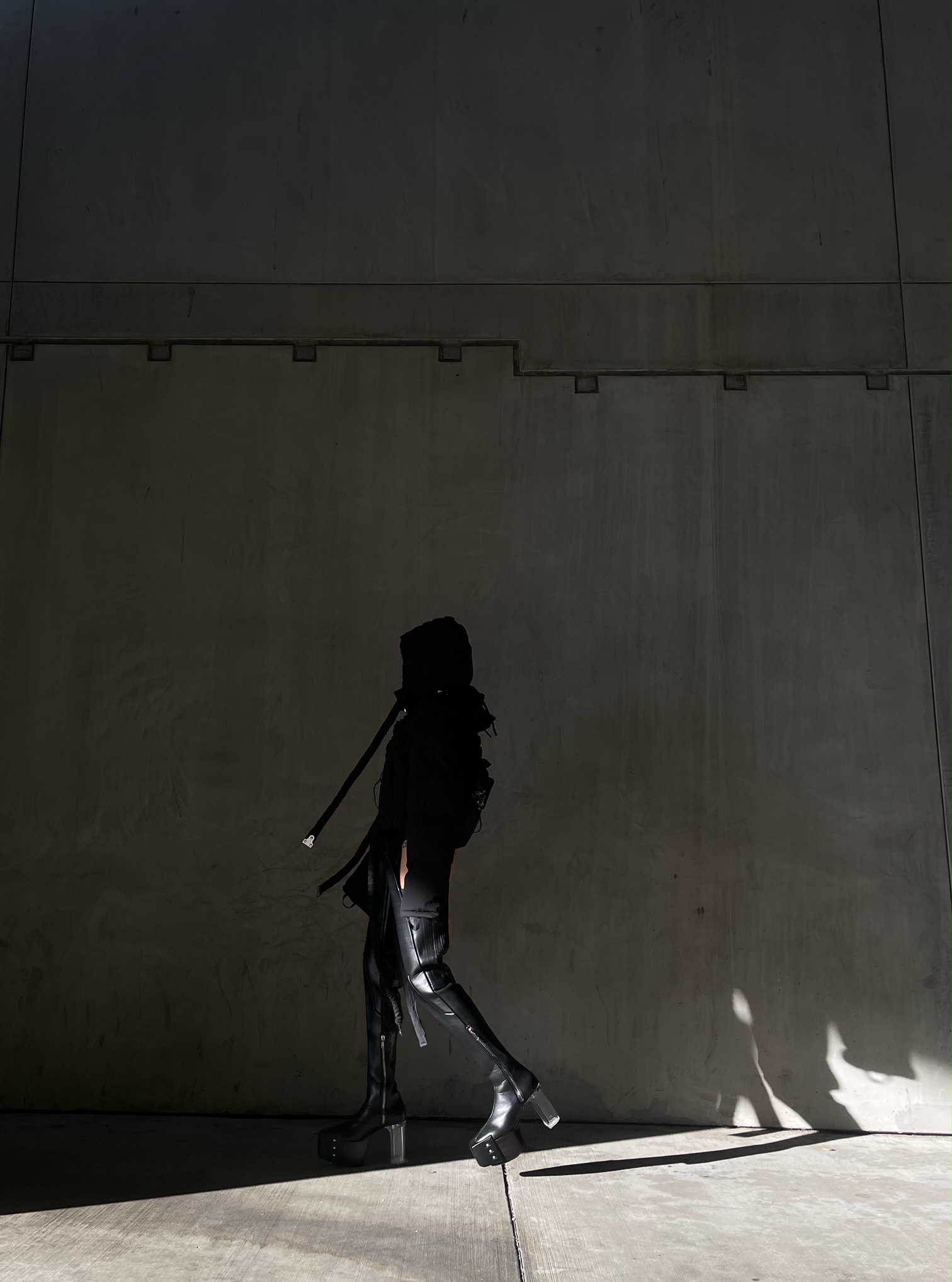 Archived: Is there any specific meaning behind your IG username?

NGC1961: Yes! Now that I think of it, it's a stupid joke, but it was 12-year-old me. Ok, bear with a middle school kid who wanted to get off this planet. I thought school life was depressing, so NGC1961 is a completely random galaxy 220,000 light-years away from us.

Sorry if this doesn't make sense; I don't understand myself, either.

Archived: No, I love it! Is there currently a favorite piece in your closet? Anything you're currently looking to add to your collection?

NGC1961: Currently, my fav is this pair of Ann D. riding boots, but they're so painful to walk in, she hurts me so much, but I love her. Also currently looking for this Azzedine Alaïa dress from the 90s; she has been on my mind a lot lately.
Riding boots from Ann Demuelemeester
Archived: Boots are crazy! Was there anything you were looking to gain from your move to NY, or were you ready to turn the page on your life here in LA?

NGC1961: No, nothing specific; LA was warm and snuggly. It was almost too comfortable for me, I had so many beautiful memories there with my friends, but I just felt the need for something new.

Archived: I have two more questions - is there anything you'd like to see more from designers/brands, or are you satisfied with the current state of fashion? And what do you like the most about Archived?

NGC1961: More contemplative vision and more craftsmanship, less gaudy clout, and fast trend hopping. It's something I would contemplate, too, because I'm very new to this industry, and I know I still got a lot to learn.

I love and respect Archived so much because they created a community to bring people with the same passion together, and that's something immaculate! Archived has its own eco-system, and it's both educational and sustainable. What you guys do really provides an oasis for people like me in a riot fashion world!