The definition of modularity - the use of individually functional units assembled in a single system.
In the context of fashion, it is commonly referred to designs that serve multiple functions while still being constructed in the same entity. A waist bag for example could serve as an aesthetic decoration by the waist or a utility pouch for storing items.

Designers from the past have always toyed with the idea of having a multifunctional garment that goes beyond the eye. As part of our Miu Miu SS99 capsule collection launch, we have gathered a few prominent designs from the past that can serve as a talking point, to examine and discuss the possibilities in accessories.



Born in 1992, Miu Miu was the diffusion line or more affectionately, the lovechild of Miuccia Prada. The brand's image was clear since its birth - it was an outlet for Miuccia Prada to unveil ideas and concepts that she dares not to put onto the Prada runways. The garments and accessories have always mashed in playful elements while done in a thoughtful manner, one that represents Miuccia's exquisite tailoring and dressmaking abilities.

In the Miu Miu SS99 show, it was all about utility. There was a utilitarian focus on every look, either through the water resistant nylon materials purposefully used or the waist bags that served as an additional pocket for the wearer. Waist bags and crossbody vest bags found its way to more than half of the looks, sticking out as one of the highlights of this presentation. The accessories came ranging from orange to yellow, pairing with the monotone outfits to give it an eye-catching pop of color. There were also several looks with adjustable buckle straps that go across the body which allowed the wearer to attach the garment to the waist when unworn.



There was a distinctive emphasis on the utility of garments, and that they should not pose as cumbersome but rather one with the body. The garments and accessories could be seen as an extension of one's body, allowing it to be securely attached to the wearer without any fear of it coming off.

In hindsight, it is clear that Miuccia Prada was incredibly innovative in her designs. She created unique and functional accessories that remained functional and popular even after more than 20 years. The seeds she planted 20 years ago budded, spawning the different variations of utility bags that we see today.

First introduced in 1994, the Vexed Generation Crossbody Bag has had a substantial impact on what we see in the designs of popular bags from contemporary designers such as Matthew Williams of Alyx Studios; it comes not as a surprise that there has been a resurgence of interest in the brand. And with their debut of a 2019 collection comprised of reissued, flagship designs, the hunt for the 1990s originals and spawn of imitation will only continue to intensify.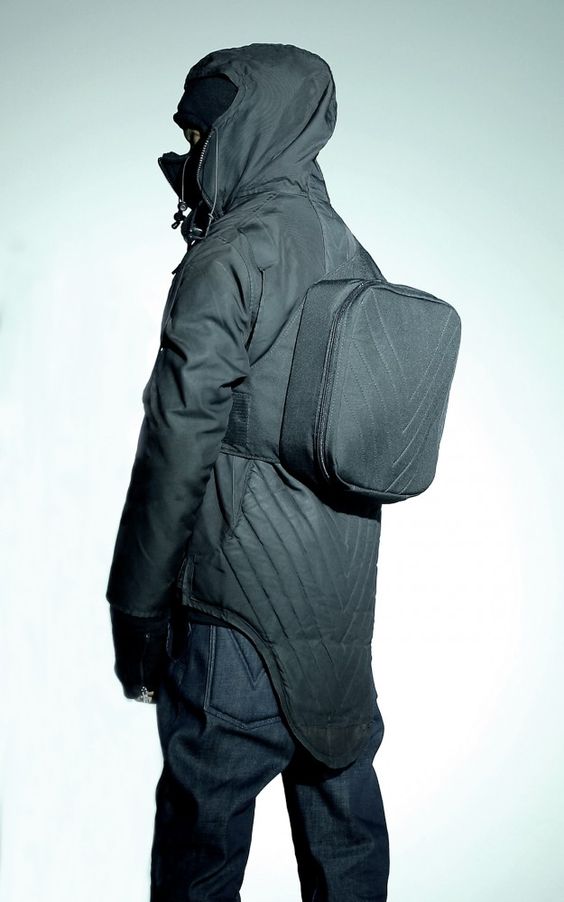 What is so special about this seemingly commonplace bag from the obscure British label? To begin to truly understand it and its unique, geometric proportions, we can compare it to its typical contents: laptop computers, vinyl records, or books. Measuring about 16 inches in length and width, as well as 5 inches in height, this square contraption can realistically fit everything you need and more. In addition to it being already spacious, there are two inner pockets with velcro closures. Its signature strap consists of two, adjustable, curved segments of durable canvas conjoined by velcro along their entirety. Along the topmost piece, there are two pockets, one of which is closable with velcro similar to the bag's interior. Riddled with modularity, the Vexed Generation crossbody bag has many intricacies which provide maximum utility for the wearer and their needs.



In recent years, Kanye West, a figure well-known to vocalise his interest in designs from the past, has tweeted about "trying to find Adam Thorpe and Joe Hunter". To look at this instance objectively, West epitomises the type of individual who finds inspiration in the innovation of today's predecessors in design. What cannot be said for certain about him in particular, however, is that he seeks a deeper understanding of those designers beyond what one would see on the surface. It is this direction which turns sloppy mimicry to something of reverence, and makes the attempted inclusion of revered conceptual movements of the past permissible.

Next


︎

Recomended Products