FROM 50€ TO $50,000

TRACING THE HISTORY OF RAF SIMONS ARCHIVE
Written by
Oliver Leone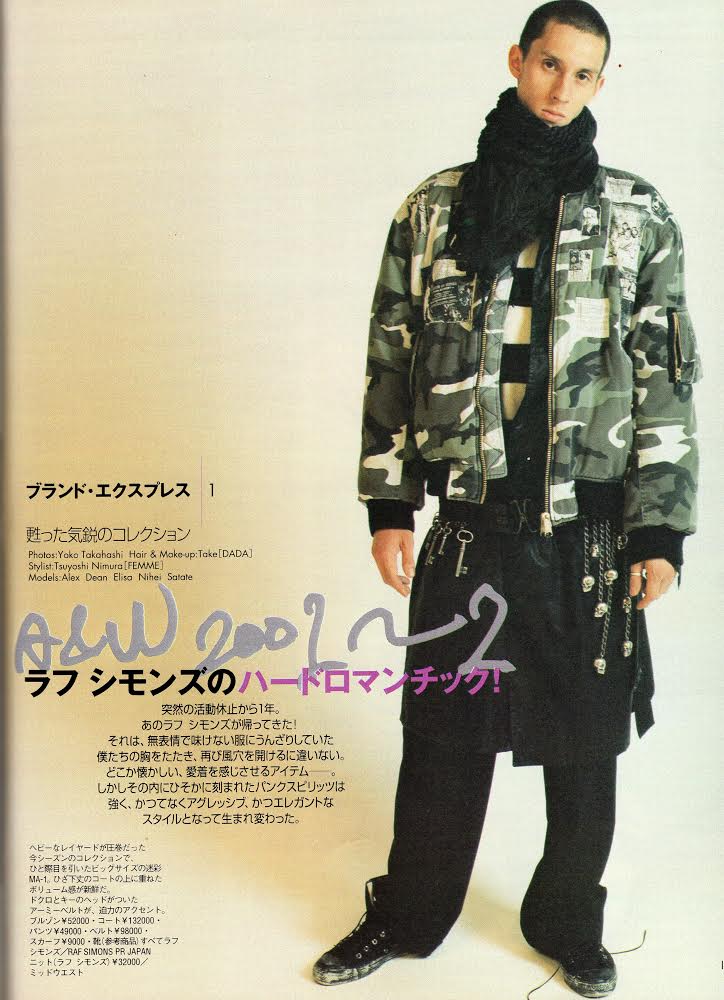 It's 2001. You just got hired as a buyer for Harrod's and you're ecstatic.
This is your dream job afterall. It took half your parents' savings and 5 years of tedious studying at Uni to get here but you're finally feeling confident about your future. For your first job, Harrod's flies you to Europe, your first time out of the country, to view the new menswear collections in Paris. There's been buzz around a new name in fashion, a Belgian designer named Raf Simons who will be coming coming back on the scene after a hiatus. Notorious for his avant-garde take on fashion , you're eager to watch his show.


Wow. It was called Riot Riot Riot and it was nothing like you'd ever seen before. Wide draping silhouettes injected with military and punk themes dominated the catwalk. Excited, You end up buying all the bombers for your store. Your boss is skeptical but they are retailing in Harrods a couple weeks later. A few months go by and they've ended up on the sale rack. You're ashamed. You buy two for yourself at 50 pounds each. Next year you're fired from Harrods. A decade and a half later you're at a coffee shop and see an article reading"Raf Simons bomber sells for record breaking 47k." Baffled, angry, and regretful that you gave the ones you owned away, you ask to yourself "how did this happen?"


The Raf Simons archive craze is at peak today in 2020 yet it's still growing exponentially. Like a stock that never crashes, it seems every week that passes, old Raf pieces get more and more expensive. This growth stems from his debut in 1995, while the majority of the world neglected him, Raf was a hit in Japan. Showcased all over Japanese publications, he gained a small, yet cult-like, following amongst the youth. Worn around the streets of Tokyo, the youth styled his expensive graphic-heavy items into casual everyday wear. Despite the positive reception, Raf Simons as a business was failing and had to close to restructure in 2001. At that time, consumers weren't willing to pay designer prices for distressed, up-cycled garments with a DIY aesthetic.The majority of his early collections went on clearance and only sold to a select few. This struggle for financial success and popularity is one of the key factors to why his archive became so sought after; people wanted an untouched market.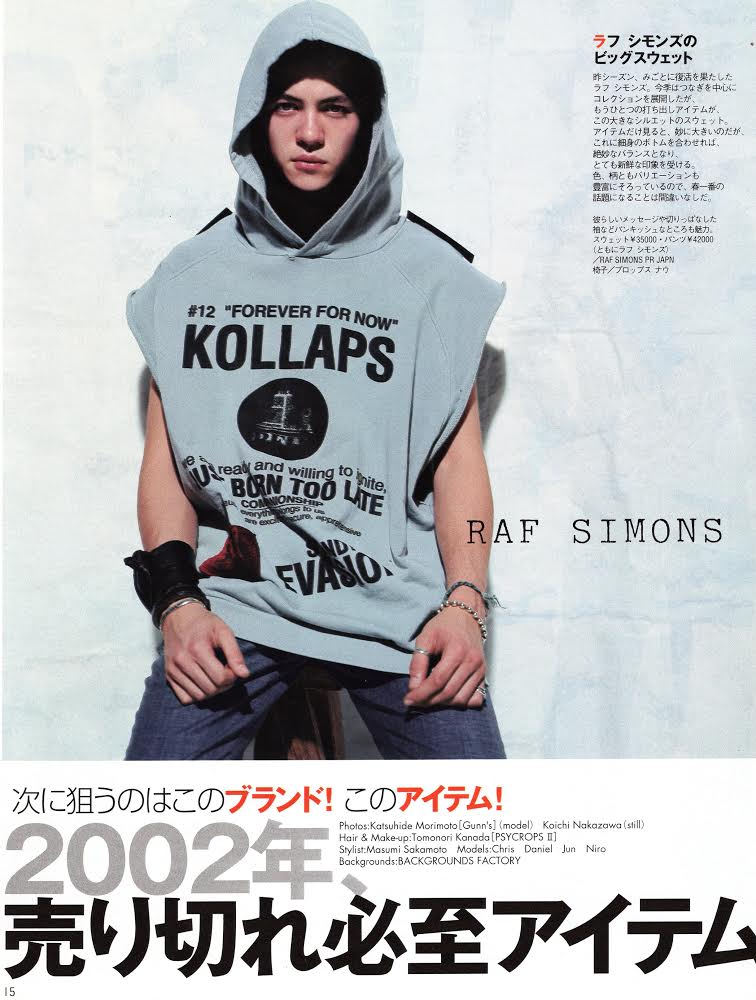 We can trace back the Raf Simons archivists to 2005 where records still exist of them hunting down pieces on forums such as
thefashionspot.com
. Their obsessive passion shows through their conversations: posting scans of editorials, information on collections, and linking runway videos. One of the youngest and most prolific of this group was David Casavant, only a teenager at the time, he began procuring what would become the largest archive of Raf Simons to date. Also in 2005, many important figures in the press were behind the scenes spreading Raf's name including Kuki de Salvertes, a higher up in PR, and Cathy Horn, an editor at New York Times, who wrote an article on Raf calling him the most "influential unknown menswear designer." 2013 marked the first ever official curated sale of archive Raf when the LN-CC released a variety of pieces from 98-08 to the public. Just after A$AP Rocky dropped his first breakout tape, namedropping Raf amongst other avant-garde designers, the sale was assumed to be a hit. But it wasn't. The majority of the items didn't sell, including the the most expensive in the drop, the Riot bomber, which was listed at 2,000 £. The time just wasn't ripe enough.
From 2013-2018 the interest in old Raf exploded. The once forum mogul, David Casavant, began renting out his collection to celebrities such as Kanye West. Pictures of West sporting old Raf pieces spread online like wildfire. These were also the years Demna Gvasalia was making waves with his oversized silhouettes at Vetements, a style Raf had pioneered a decade before. Important mainstream figures and their stylists, notably in the rap community, began catching the affliction for archive Raf like a virus. The supply was low and the demand was high. To find an economic equilibrium, prices on all things Raf ascended beyond heights never reached by archive clothing, resulting in five figure sales.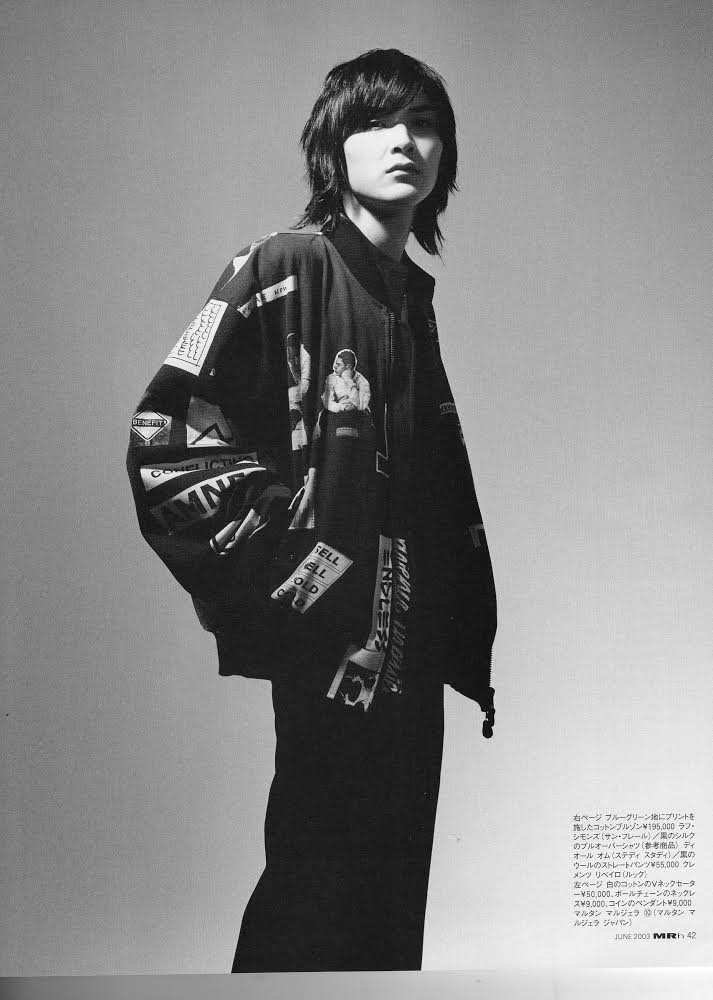 Back to present day, getting your hands on archive Raf for an affordable price is like finding gold in the Los Angeles River. Only a select few could bear the expenses of these once overlooked items. The further the class divide within archive consumers gets, the more coveted the pieces become. It seems it will never end. Fortunately there are private collectors and sites like Archived that specialize in renting out a selection for a fraction of the market value. This allows the average consumer to get their hands on garments that have previously been kept away for a minority. As for Raf, he still puts out collections consistent with his ethos and is constantly bouncing back and forth between big fashion houses transforming brands into interpretations of his own. We don't know what the future will be like but its safe to say his work will forever be ingrained in history.





︎Previous